How to save money
4 nov 2019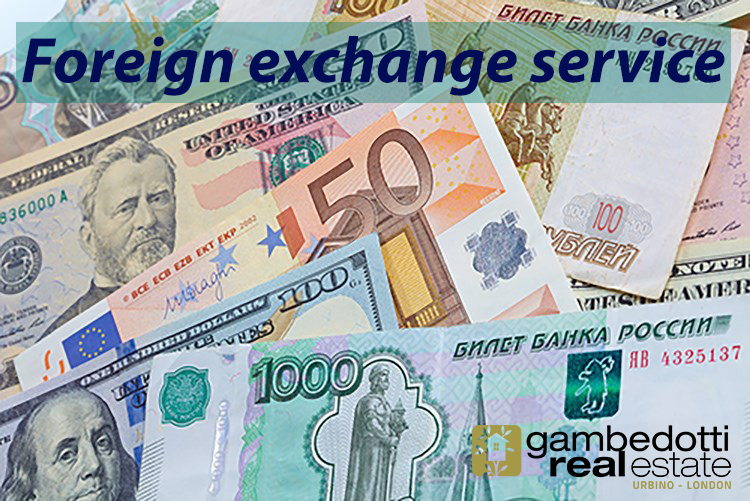 This service is usefull for anyone who wants to change euros for international currencies, for example dollars to euros or euros to pounds, yuan to euros,etc...
Gambedotti Real Estate provides this service to its costumers in partnership with one of the UK's leading global foreign exchange and international payments companies. They have 180,000 registered clients in 50 different countries, who entrust them to manage their global payments, in 200 different currency.
This means your money goes further, because the exchange rate is higher than the rate you receive from your bank.
Our partners's currency specialists will manage all of your international money transfers, they will offer you specific guidanceon the currency markets and best options for making money transfers at the best exchange rates through our range of different payment solutions.
Our partner company offer you great benefits to make your international payments process safe, quick and easy.
Great exchange rates
No hidden transfer fees
A dedicated account manager
Same day payments on selected currencies
Fexibility to trade online or over your phone
Reasons for choosing this service:
No commission fees
Personal account manager
Fixed rates
Fast same day payments
Free guides on selected currencies
Ideal for you:
Buy and sell overseas property
Make mortgage payments overseas
Collect rents on overseas property
Moving abroad
Purchasing high ticket items (cars, boats, etc)
Receiving pension payments
Paying university tuition fees
Paying medical expenses
Receiving overseas inheritance
Security for your funds
Customers funds are always protected.
All UK and international regulations relating to client funds are complied with.
All client funds are deposited in a separate account.
These accounts are only used for clients transactions and they are protected from creditors by law.
The company is regulated and authorised by the FCA as a Payment Service firm (FRN 504592) Anti-money Laundering regulations (HMRC) and Data Protection (ICO)
For further informations contact our offices to complete the registration form or call us now!!
+44 7863305409 (UK - Eng) or +39 3483707932 (IT - Ita)
Gambedotti Real Estate - Corso Garibaldi 25 - Urbino (PU) - Italy
Nieuws
13 feb 2021
23 dec 2020
14 aug 2020
4 nov 2019
3 aug 2019
14 apr 2016
14 apr 2016
14 apr 2016
26 mrt 2016
19 dec 2015
6 aug 2015
9 dec 2014
25 jul 2014
14 apr 2014
3 mrt 2014
11 jan 2014
1 jan 2013