The Leonardo's Princesse in Urbino!
Chronicle of an exciting discovery ...
9 Dec 2014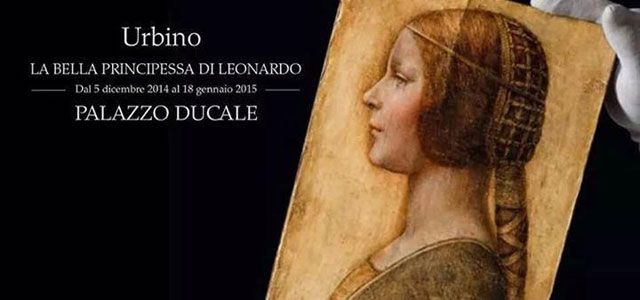 The portrait in parchment " La Bella Principessa", attributed to Leonardo da Vinci, who portray a lady, ownership of canadian collector Peter Silverman, is returned in Italy and will be exhibited at the Palazzo Ducale in Urbino from the 6 of December to the 8 ofJanuary, 2015 .
In October 2009, a major artwork by Leonardo da Vinci was uncovered. The 500 year-old portrait is one of the most extraordinary discoveries of our time. This is the story of how a team of experts - led by Professor Martin Kemp -pieced together the evidence, detailed historical research and technical analysis to follow a trail that leads back to the 15th Century. There is an element of mystery and an aura of mystical glamour that surrounds Leonardo. So when news of the discovery broke, it was met with astonishment, even disbelief. Here was a new work of art by a genius who left us astonishingly few - no more than a handful. Martin Kemp takes us on a journey of discovery recounting the steps he and Pascal Cotte took in authenticating the painting including the use of forensic methods usually reserved for criminal investigation. He recounts how experts matched a fingerprint found on La Bella Principessa to the great Renaissance master. This discovery throws new light on Leonardo da Vinci and his world. We learn the story of the girl who inspired the painting. The sitter, a beautiful young girl, displays a sense of melancholy and strength, a tender and fragile beauty. But who is she? By far the most likely candidate is the illegitimate daughter of Duke Ludovico Sforza. Martin Kemp tells, too, the tragic story of this princess who was to die when she was just fourteen years old. Previously changing hands for just GBP12,000, the painting is now thought to be worth something in the region of GBP150 million. As 'La Bella Principessa' (The Beautiful Princess) finally goes on display to the world, the people responsible for proving it is one of Leonardo da Vinci's tell the story of its discovery. Superbly researched and richly illustrated, La Bella Principessa reveals the Renaissance and its great master in a new light.
News
13 Feb 2021
23 Dec 2020
14 Aug 2020
4 Nov 2019
3 Aug 2019
14 Apr 2016
14 Apr 2016
14 Apr 2016
26 Mar 2016
19 Dec 2015
6 Aug 2015
9 Dec 2014
25 Jul 2014
14 Apr 2014
3 Mar 2014
11 Jan 2014
1 Jan 2013